Drive Greener, Faster with the Ground-Breaking BMW i8 Plug-In Sports Car
The impeccable BMW design has a way of revolutionizing an entire vehicle class. The BMW i8 is a vessel for innovation, taking classic sports car proportions and engagement and delivering them in a revolutionary new way -- via a plug-in hybrid powertrain. It's the exhilarating BMW driving experience you know and love, but it's a refreshing and invigorating design that changes your perception of what being a "sports car" really means.
BMW i8 Performance

The BMW i8 delivers on the athletic performance promised by its sporty exterior. Uninterrupted acceleration comes from a dynamic duo of a TwinPower Turbo three-cylinder combustion engine and an all-electric motor.
Together, this power couple propels the 2016 BMW i8 from 0 to 60 mph in 4.2 seconds, and they generate 357 horsepower and 420 pound-feet of torque. This is truly unrivaled performance for an all-wheel-drive plug-in hybrid.
This vehicle's blend of efficiency and sportiness are truly unmatched in the plug-in hybrid class. Thanks to BMW eDrive technology, the BMW i8 gets up to 76 MPGe fuel efficiency, which is unrivaled by comparable sports cars.
Every inch of the BMW i8 is thoughtfully designed to maximize performance and efficiency. The choice to use lightweight materials maximizes this plug-in hybrid's aerodynamic and sporty ride quality. Carbon Fiber Reinforced Plastic is 50 percent lighter than steel, and yet it is just as strong.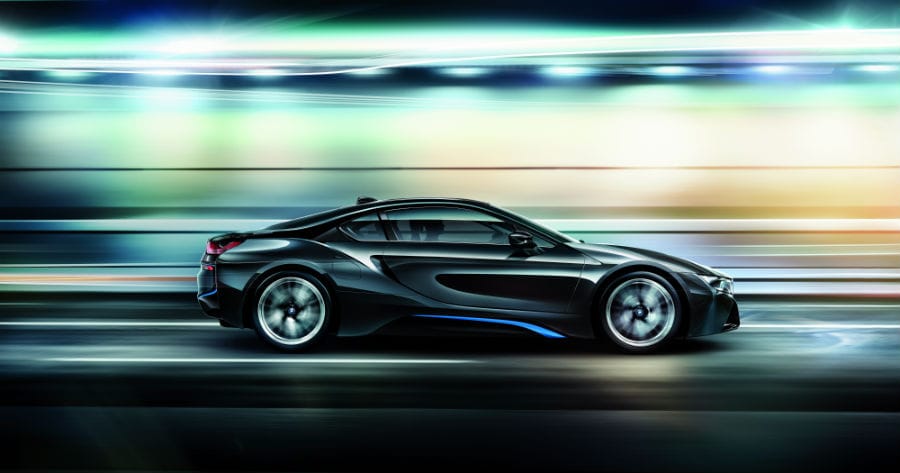 BMW i8 Exterior Design
The BMW i8 certainly looks like a sports car, but it's much more than just a straight-laced athlete. It's not just about a racy style with this vehicle; every exterior detail is thoughtfully designed to improve aerodynamics.
But, of course, it still makes it looks good while doing it, too. Scissor doors ensure the BMW i8 looks unlike any sport car on the road. And its long wheelbase, sleek profile, and short overhands gives the illusion that the BMW i8 is always moving.
Reducing drag is key to the BMW i8's sporty performance. It employs EfficientDynamic ventilation technologies, which include vents that actively open and close to improve the vehicle's overall aerodynamics.
Channeling airflow is crucial to efficiency, and the vehicle's rear wing helps provide significant downforce, which the front Air Curtains work to cool the engine in the rear of the car.
BMW i8 Interior Features
The BMW i8's attention to detail is its key to success. Even when it comes to noise reduction, conventional glass is forfeited in favor of substantially lighter, chemically hardened glass, making for a quiet cabin without sacrificing the vehicle's lightweight design.
BMW masterfully integrates the familiar and the futuristic into the design of this car's cozy cabin. It is modern and fresh with the use of recycled materials, available naturally tanned leather, and optional blue accents throughout. This is the face of the future of sporty luxury.
A multi-tiered and layered cockpit makes the driver feel confident, pampered, and connected.
Efficiency isn't just in the BMW i8's engineering and construction. It's also about driving smarter, like by using BMW ConnectedDrive to choose the most efficient navigation route possible (something the system does for you using topography and traffic information).
Ready to meet what is arguably the most innovative sport car on the market? Simply visit the   new BMW showroom here at BMW of Devon to feast your eyes on the new age of automotive efficiency and athleticism. Our i Series inventory caters to drivers all over the Philadelphia, Main Line Suburbs, Berwyn and Wayne area, as does our tailored BMW financing programs.