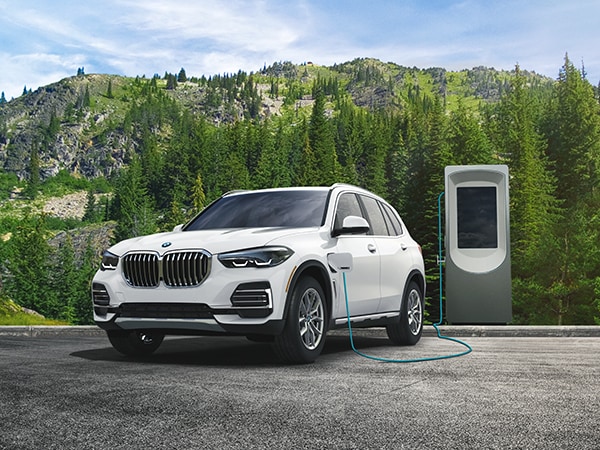 Luxury and savings.
Larger vehicles and better gas mileage.
Those might sound like oxymorons, and at one time they were, but not anymore. Case in point – the 2023 BMW X5 plug-in hybrid.
In the 20+ plus years since the X5 was first introduced, this mid-size luxury SUV has become the segment's popularity symbol. Combing practicality with elegance, the X5 sets the standard with its good looks, comfy seating, generous cargo room, and smooth driving performance.
In 2018, the BMW X5 added a PHEV (Plug in Hybrid Electric Vehicle) to its lineup; making it possible to use spacious and fuel efficiency in the same sentence. Today, this variant - formally called the xDrive45e – offers the latest X5 benefits and a whole lot more.
Below are five reasons why you should purchase a new 2023 BMW X5 45e (in no particular order).
1. You Get the Best of Both Worlds
Let's face it. Ever since Henry Ford's first Model T rolled off the assembly line in 1908, gasoline-powered cars have been emitting dangerous carbon dioxide into the air. It's a way of life.

Battery-powered vehicles eliminate this, along with the cost of rising fuel prices, but diving headfirst into this new era is a huge leap of faith. Charging stations are not as easy to find as gas stations. Who wants to risk getting stranded? Additionally, electric cars are quiet. This is not necessarily a bad thing, but after hearing your engine roar upon placing your foot on the pedal for years, this sudden lack of sound can be a large adjustment.
The X5 45e provides an effective introduction to the world of electric driving. Plug-in hybrids run on batteries more than traditional hybrids, so you can still feel good about helping the environment. You also save money with more miles to the gallon, especially when compared to a conventional gas-powered vehicle.
However, a PHEV retains much of a gas engine vehicle's convenience. The 2023 X5 45e battery self-charges while driving, reducing the number of times you need to manually charge it. Braking recovers some of the battery's energy.
The 45e gets a combined 50 miles per gallon, which is about double the other X5 models. A full tank and charge can get you around 400 miles of range. By comparison, the 2022 Audi Q4 e-tron, an exclusively battery-powered SUV, provides around 250 miles per charge.
2. Federal and State Tax Credits
Tax time can be a stressful period in our lives. Make April 15th a better day with a new X5 45e. You may be eligible for up to a $7,500 federal tax credit. Additionally, the Pennsylvania Department of Environmental Protection Alternative Fuel Vehicle Program offers $1,500 rebates on new PHEV purchases. For more information on these incentives, visit the
Federal
and
State of Pennsylvania
EPA websites.
3. Towing Capacity
Towing is where the 2023 X5 45e really stands out against its PHEV competitors. If you need to pull along a trailer or RV, the 45e is up to the task. Its towing capacity nears 6,000 lbs (5,952 to be exact). The new Lincoln Aviator PHEV has a towing capacity of approximately 5,600 lbs. The new Volvo XC60 Recharge checks in at 3,500 lbs. The new Audi Q5 PHEV can only tow up to 2,000 lbs.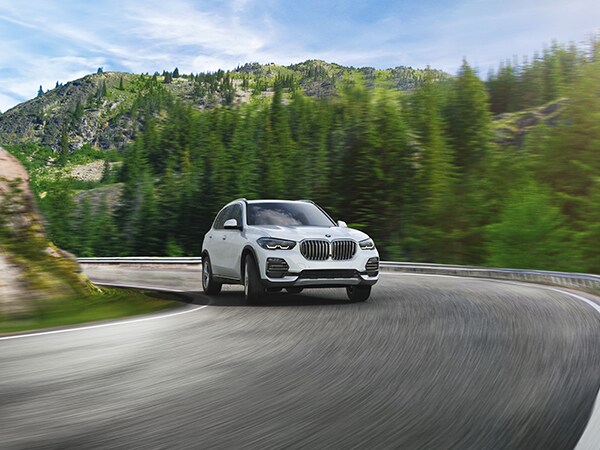 4. Bang For Your Buck Features
When considering price tag alone, the new X5 PHEV does not stand out from its contemporaries. Starting MSRP (Manufacturer Suggested Retail Price) for the xDrive 45e is less than the new Aviator plug in hybrid SUV, and about the same as the 2023 Q5 PHEV's highest trim level (the base is a little under $10,000 less). The Volvo XC60 Recharge's trim levels range between the X5 PHEV's MSRP.

Upon further investigation, however, you'll soon realize how much more for the money the xDrive45e brings to the table. Taking your family on a road trip getaway? The five-passenger X5 has a split tailgate that opens up to approximately 33 cubic feet of cargo space. The X5 can also fold its rear seats to open up around 71 cubic feet of space. This is about 20 more feet than the Q5 PHEV and 10 more than the XC60 Recharge.
The X5 45e also include a large amount of standard safety features not available on the Q5 PHEV's base trim, such as: Back-Up Camera, Cross-Traffic Alert, Lane Departure Warning, and Knee Air Bags. Interior features on the X5 PHEV not available on the Q5's entry trim include a Premium Sound System, Hard Disk Drive Media Storage, Adaptive Cruise Control, Automatic Parking, and Seat Massage.
Additionally, the 2023 X5 PHEV comes with xDrive as standard. This helps ensure the most comfortable, smooth, and safe ride possible. It also includes technologically-advanced safety features like Dynamic Stability Control, Brake Fade Compensation, and Hill Decent Control.
In terms of engine performance, the X5 PHEV features a 3.0L, six-cylinder, engine delivering more horsepower than the Q5s 2.0L four-cylinder one. The XC60 Recharge's engine is also four cylinders.
5. Availability
Last, but definitely not least, the 2023 BMW X5 PHEV is available - at
BMW of Devon
.

Yes, you read that right.
Our Eastern Pennsylavania dealership was recently allotted a significant number of these models. As a result, you can find a brand-new BMW X5 xDrive 45e in stock right now. Search our online inventory, which includes multiple colors and packages. Buy online with Sloane at Home's "Build My Deal" digital retailing tool. This integration allows you to apply for financing options and customize your monthly payments before setting foot inside our dealership.
Of course, you are also more than welcome to ask us any questions you want about the X5 PHEV, or schedule a test drive. Our knowledgeable and friendly BMW of Devon sales team would be more than happy to help you. Visit us today!